The Horticulture Wales project, working out of Glyndwr University, is back up and running with gusto. A new team is driving the project forward, supporting Welsh growers and producers to develop their horticultural offer and supporting them in using a range of modern and traditional growing methods. Horticulture Wales aims to bring together communities, growers and technology.
Horticulture Wales Project Manager Jon Thomas and Project Assistant Mark Roberts have set up test growing environments on the universities Northop Campus, working in collaboration with Menter Môn's Tech Tyfu project. Soon, growers will be able to visit and see the different vertical farming opportunities in action, from new technologies to DIY gravity fed hydroponic systems.
Molly Poulter, Project Officer with Menter Môn's Tech Tyfu Project; 'Our team is excited to be partnering with Horticulture Wales to collectively extend the opportunities of businesses and strengthen the resilience of rural diversification inputs through controlled environment agriculture.'
'We're delighted to be working alongside Tech Tyfu to create a regional hub for research and educational purposes. Helping to spotlight alternative growing techniques and the versatility of the systems.'  Jon Thomas.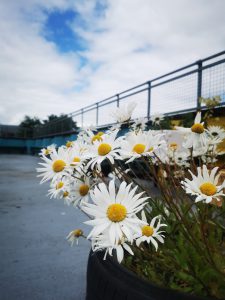 Project Development Officers Becky and Bethan have been visiting producers in Wales to develop the new Niche Crops Cluster, which seeks to bring together growers of Niche Crops. These have included visits to the heart of Snowdonia to start up Real Fun Guy Gourmet Mushrooms and established hydro farmers Mountain Produce 1200ft above sea level near Wrexham. The team has also joined up with creative community projects such as Be you to Blossom and Heart Community Productions. Horticulture Wales are joining the dots between growers' needs, community engagement and making connections to drive horticulture in Wales to the next level.
The Wales Heritage Orchards Ltd project is the next big thing on the agenda, with legendary apple investigator, known in some circles as the Indiana Jones of Welsh Heritage Varieties, Ian Sturrock. Horticulture Wales is bringing more orchards into the fold, encouraging and empowering orchard owners in Wales to plant Welsh Heritage Varieties, in a bid to embrace Welsh heritage and ancient varieties so that the fantastic history of the country continues to be celebrated.
Horticulture Wales will be continuing to search for more Niche Crops and Welsh Heritage Orchard members, so, if you think you know of any growers that fit the bill, get in touch:
horticulturecluster@glyndwr.ac.uk or sign up via our mailing list via www.horticulturewales.co.uk. For latest updates follow us across all social media channels @HortWales and Menter Môn; www.mentermon.com.
The Horticulture Wales project is funded by the EU and Welsh government until June 2023 with an aim to raise the profile of Welsh growers, horticulturalists, and producers, promoting knowledge exchange in Welsh Horticulture and Welsh horticultural produce.