Angela Done; a previous schoolteacher is passionate about the mindfulness and wellbeing of the children in her local community.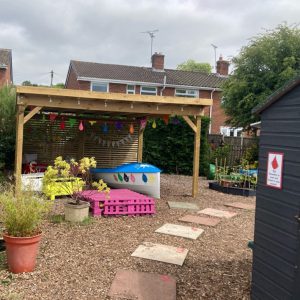 Based across various Flintshire schools (Ysgol Estyn, Abermorddu C.P, Derwen & St John the Baptist School), Angela dedicates her hard work towards creating a safe environment for children aged 3-11 years to learn, develop, and understand their capabilities. One way that she does this is with the use of her Mindfulness Garden that is based at Ysgol Estyn School, Hope, Flintshire, Wales. Another Garden area has begun to be developed led by Year 5/6 pupils of St John the Baptist School, Penymynydd, Flintshire, Wales, with further development plans in place for schools next year.
Children of all Primary school ages have benefitted from Angela's programme and in particular the Mindfulness Garden which she began 18 months ago at Ysgol Estyn.
In the Mindfulness Garden, the children have been able to grow herbs, a sensory garden, Sunflower Circle and other plants or flowers that have been donated. The children spend time here tending to the garden, de-weeding, planting, watering as well as learning about growing and tending to the space as well. Often local volunteers such as parents, local gardeners or even retired schoolteachers join in to share their knowledge with the children.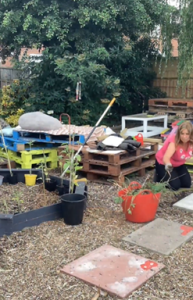 The Head teacher at Ysgol Estyn; Gareth Jones claims "This is a fantastic project, and it will continue to evolve". Gareth supports the work Angela does for the children and explained that "Post pandemic, because most of the children spent a lot of time indoors it's a great opportunity to get the children outdoors in the environment."
The Mindfulness Garden is made up of more than plants, flowers, and herbs; Angela uses reclaimed items, such as vehicle tyres, pallets and even an old boat to engage the children. Gareth Jones says, "The children have just excelled, some children who we didn't think were leaders have actually led on the project, so they've built up their skills there."
Angela will always encourage the children to come up with innovative ideas for reclaimed items or donations and says, "This is a pupil voice and child led project". Angela has utilised donations and promotes recovering unwanted items in an effort to prove to the children that everything can be restored she says "There are things we've been able to reclaim, we love to do reclaimed things and give things different purposes, this gives children ownership of what they're creating".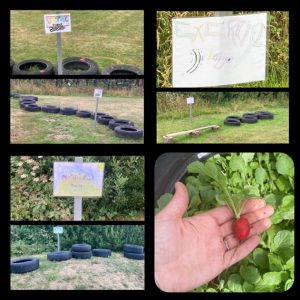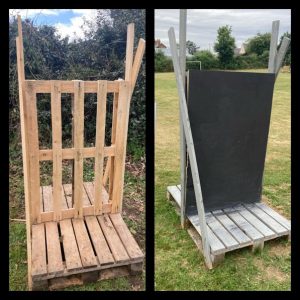 Angela uses 'Droplets' to help the children (from Early Years -Year 4 and beyond) to be their best and happiest selves! The Colour Droplet Programme looks at different aspects of growth mindset and mindfulness eg – Gratitude, Kindness, Vision, Meditation, Purple Power Affirmations and so much more. These droplets have been incorporated into the outdoor garden space to consolidate their classroom learning and provide an outlet for the children to explore their emotions.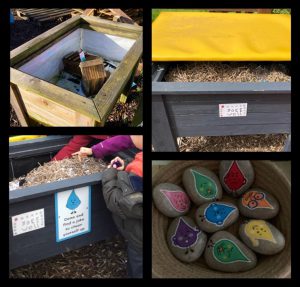 Gareth Jones talks about how the Droplets have helped the children of Ysgol Estyn," Resilience wise, where they have faced a problem within the garden, and they've had to find other ways around it. Emotionally, especially during break time and lunch times where they have chosen to come in here for some calming down time, or for some relaxation time or for them to look in the mirror and do their affirmations realise they are important, they are good at things and just take care with others which has been massive for their self-esteem, which is very important because without their self-esteem then really the children would struggle to compete in modern day but also to excel in their learning ."
Be you to Blossom Team would welcome any donations, volunteers or support, If you would like to get involved in these projects of future projects then please contact Angela through : www.beyoutoblossom.com or email beyoutoblossom@gmail.com
https://www.youtube.com/watch?v=xZ3bhao0M_M
https://vimeo.com/688075635