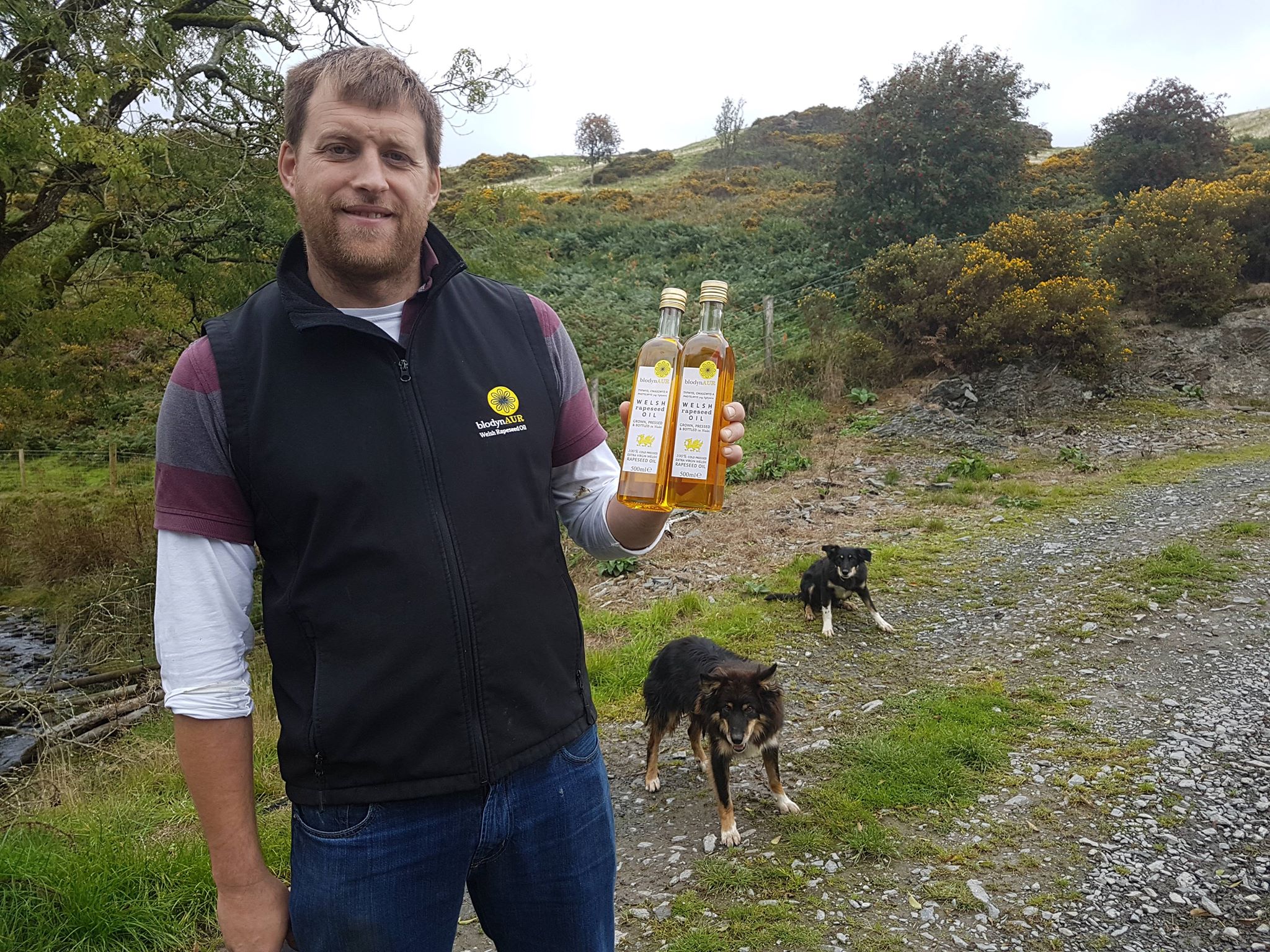 Llyr Jones runs his company, Blodyn Aur, in Llanfihangel Glyn Myfyr where he produces rapeseed oil. Llyr, 39, produces the oil at his family home at Derwydd Farm, which he shares with his wife Emma, 39, and children, Dwynwen, two, and baby William.
Farmer Llyr keeps sheep, cattle, and chickens, but he also produces rapeseed oil as a way of diversifying and making his farm more sustainable.
Blodyn Aur also produces three varieties of dressings from its oil, including beetroot and thyme, balsamic, and honey and mustard.
"If you go back twenty years, you didn't see yellow fields, but rapeseed oil has advantages," said Llyr.
"If you grow corn every single year, it takes the nutrients out of the soil. Rapeseed is from the Brassica family, and it replenishes the ground if you grow that one year and corn the next. So when I grow corn the year after growing rapeseed, I get a bumper crop of corn because the ground has been rested and the soil benefits from the nutrients."
Llyr believes that few crops are as sustainable as rapeseed oil. As an environmentally-conscious business owner, Llyr says he produces no waste and even uses the protein extract from production to feed his cattle, saving money and helping the environment.
"Rapeseed is self-sustainable. There's zero waste. We don't have waste. Even the left-over straw, I use when the machinery leaks to absorb the oil. So not even our waste is waste. All the business is green. The by-product from the oil is a quality protein that I'm able to produce at half the price, which benefits the farm. If I didn't grow rapeseed, I would have to buy soya from Argentina or Brazil to feed the cattle, which is not good for the rainforests either. So the whole process is self-sustainable."
Nutritionists agree that rapeseed oil contains the least saturated fat of any cooking oil, and Llyr says the health benefits of cooking with rapeseed oil means more people are using it. ASDA, Sainsbury's, Morrisons, and many farm shops are already stocking Blodyn Aur oil, and Llyr says he has big plans for his product.
"The other advantage is that it is a healthy oil. It has half the saturated fat; it contains omega three; it is high in vitamin e, and it has got a very high smoking point, which means you can cook at a very high temperature."
He added: "Everything is grown, pressed, and bottled in Wales. It's the only Rapeseed Oil wholly produced in Wales.  My goal is that every kitchen in Wales has a bottle of Blodyn Aur."
For more information, visit www.madryn.co.uk/pages/blodyn-aur
Alternatively, you can contact follow Blodyn Aur on Facebook or Twitter at @BlodynAur